ROPE
What is FSE Spunflex©?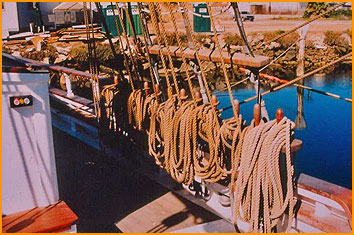 Affectionately referred to as the "rope for old boats" because of the natural hemp color, FSE Spunflex© (formerly Roblon) is made of fibrillated polypropylene film yarns. It is a flexible and versatile 3 strand rope, UV stabilized and resistant to acids, alkalis and sunlight resulting in excellent durability and strength, having more than twice the life of natural fibers. And ".....it floats."
Also available in synthetic marline sizes 2.2 millimeter, 3.0mm and 4.0mm. Stronger, while preserving the appearance of natural fiber marline, with all of the properties of FSE Spunflex© rope.
FSE Spunflex© was originally developed by Roblon of Denmark for training vessels. It's now manufactured by Teufelberer of Austria and is sold exclusively in North America by Allen C. Rawl, LLC.

Why use FSE Spunflex©?
Traditional Rigging of a Ship
FSE Spunflex© was originally designed for use as running rigging on training vessels, that seriously work. However, the technology is not lost on the vessel that spends more time dockside such as museum vessels and living history classrooms. Under such conditions, constant exposure to the harsh sunlight can play havoc with ordinary line.
After more than two decades of use under every type of condition,
FSE Spunflex© leads the industry in performance - without exception!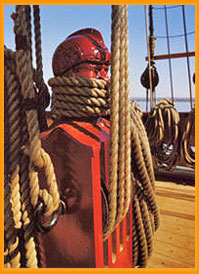 Sail Construction
FSE Spunflex© is also an excellent material
when employed by sail makers for fabricating
bolt ropes, boom and mast lacing, and robands.
Who uses FSE Spunflex©?
Below is an abbreviated list of significant traditional vessels using FSE Spunflex© (formerly Roblon). Some of these vessels have used FSE Spunflex© since the early 1980's. Customer loyalty to this product is testimony to its reliability and long-term cost effectiveness. We consider this fact the bst possible product endorsement. The following vessels are joined by the smaller traditional boat owners, too numerous to mention.
Alcyone
Topsail Schooner
Capt. John "Sugar" Flanagan,
Port Townsend, WA
Charter boat
Bluenose II Preservation Trust
Gaff Topsail Schooner
Bluenose II Preservation Trust,
Nova Scotia
Training
U.S.C.G. Eagle
USC GBargue, 3-masted
USCG Academy, New London, CT
Training Vessel
Elizabeth II
Barque, 3-masted
Roanoke Festival Park, VA
Living History Museum
Ernistina
Gaff Topsail Schooner
New Bedford, MA
Marine Science Education
Federalist
Miniature Ship
Maryland State Capitol,
Annapolis, MD
Education
Half Moon
Ship. 3-masted
Croton-on-Hudson, NY, Education
Sail Training
Irving Johnson & Exy Johnson
Brigantines
San Pedro, CA
Training, Education
Kalmar Nyckel
Ship Rigged Pinnace, 3-masted
Wilmington DE
Sail Training, Education
Lady Maryland
Pungy Schooner
Baltimore, MD
Training, Environmental Classroom
Lorinda
"Junk-rigged" Schooner
Marston Mill, MA
Private Yacht
Martha Lewis
Skipjack
Havre, de Grace, MD
Environmental Classroom
Maryland Dove
Pinnace
St. Mary's City, MD
Living History Museum
Pilgrim
Snow Brig
Dana Point, CA
Education vessel
Pride II
Square Topsail Schooner
Baltimore, MD
Sail Training, Goodwill Ambassador
Sultana
Square Topsail Schooner
Chestertown, MD
School Ship
Susan Constant
Barque

Jamestown Settlement,
Jamestown, VA

Living History Museum, Sail Training
Godspeed
Pinnace
Jamestown Settlement,
Jamestown, VA
Living History Museum, Sail Training
Discovery
Pinnace
Jamestown Settlement,
Jamestown, VA
Living History Museum, Sail Training
USS Constellation
Ship, Sloop of War
Baltimore, MD
Naval History Museum
USS Constitution
Ship, 44-gun Frigate
Boston, MA
National Historical Landmark
Customer Endorsement:
Preparing for a two year journey throughout the South Pacific on his Topsail Schooner, Alcyone, Captain John "Sugar" Flanagan will be counting on FSE Spunflex© to perform reliably in all kinds of sailing conditions. Captain Flanagan's business is chartering and he sails with his family aboard. He doesn't take unnecessary chances and he believes in the product. "I've been abusing [Spunflex©] since 1989 on the Alcyone and I was there when the Pride of Baltimore was re-rigged with ROBLON before that. It is very durable and I work it hard. It is easy to splice and has a nice hand which just gets better as it ages a bit." - Capt. "Sugar" Flanagan
Availability
Good news for the small craft owner: 6-12mm FSE Spunflex© is now available by the foot (minimum length 50'). All other sizes are sold by the spool or coil only. Most rope is available for immediate delivery. Sizes above 32mm rope are available by special order with a normal dleivery time of 12-16 weeks. For information regarding ordering and shipping click on "How to Order". A Price List is available upon request and all prices are FOB Bradshaw, Maryland 21087, USA
E-Mail: Allen Rawl or Liz Rawl